ABOUT US:
A multispeciality and a multi disciplinary dental clinic situated in the heart of Vasundhara,NCR. The clinic functions on the concept of providing a patient friendly environment and expertise of various specialists in oral and dental problems to provide premium dental care under strict sterilized and infection free environment. We at Cures 'n' Care Dental Clinic are among the few clinics in the area who are equipped with latest dental equipments, dental materials and sterilization equipments. Our objective is to provide comprehensive and prime dental care under one roof.
WHY WE NEED PROFESSIONAL TOOTH CARE?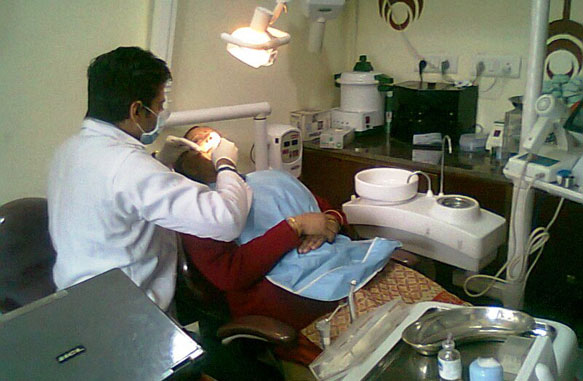 Our mouth and teeth are not as simple as they look like. mouth cavity is a complex structure consisting of both hard and soft tissues. Daily brushing, rinsing and timely flossing could help your mouth, gums and teeth to remain in good health but certain areas in the mouth e.g., spaces between teeth and contact point between teeth are very inaccessible for you and difficult to clean, for maintaining complete oral health you require professional dental and oral care. Visiting your dentist can reduces the chances of further deep decay of decayed tooth and reduces the chance of gum diseases.
DENTAL TREATMENT FACILITIES AVAILABLE:
Dental Implants, Gum Surgery, Smile and Esthetic correction, Gap Closure, Tooth Whitening, Braces, Root Canal Treatment, Porcelain & Composite Veneers, Kids Dentistry, Tooth Removal and Wisdom Tooth Removal, Imapction Surgery, Tooth Cleaning, Dental X-Rays, Metallic/Metal Free Crown and Bridges, Complete and Partial Denture, Tooth Coloured and Non-Tooth Coloured Fillings, Flouride Treatment (only for children), Diet Counselling.